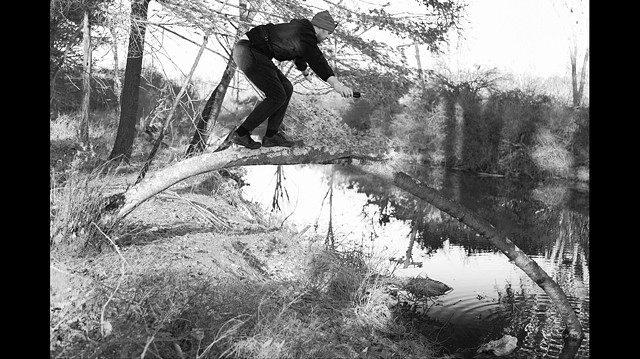 **Summer 2021 Update**
We have converted the gallery to an artist residency program for the months of May, June, & July 2021. We are temporarily turning our focus from group shows to supporting the practices of individual artists for 2-4 week stretches at a time, with unrestricted use of the gallery space, studio visits, and a stipend. Each resident will host a 1 day Open Studio Event during their residency.
Our July/August Artist in Residence is
Jon Blachford.
"I've been exploring the phenomena and technology of photography and interpreting that through the methods and modes of painting. Drawing on figurative and landscape based imagery depicting moments of wonder, care, and tenderness between people, animals, and places. I graduated with a BFA from Elmira College in 2007, and I have participated in exhibits at the former Aucocisco gallery, Able Baker Gallery, and Grant Whalquist Gallery among others here in Portland, ME." JB
Our July Artist in Residence is Golaleh Yazdani
Golaleh Yazdani is an interdisciplinary artist and educator based in Portland, Maine. Yazdani received her Master of Fine Arts at Maine College of Art. She holds a Bachelor of Fine Arts from the University of Art in Tehran, Iran. In addition, she completed residencies at ACRE and School of the Alternative. Throughout her practice, Yazdani has exhibited in Tehran, Iran, and the United States of America in venues such as Mana Art Center, Boston University Art Galleries, SPACE, Able Baker Contemporary, among others.
Mixed media is Yazdani's language. She incorporates video, sculpture, stop motion animation, and performance in her work.
Growing up in a conservative society with a dictatorial climate was a major influence on Yazdani's studio practice. Yazdani talks about the suppression forced upon her family, friends, and classmates. She explores the traces of trauma and grief as the natural consequence of a broken community under such political and cultural conditions.
Our June Artist in Residence is Ashley Page.
Ashley Page is an interdisciplinary artist living and working in Portland, ME. She presently holds a BFA in Sculpture and a Minor in Public Engagement from Maine College of Art (MECA). As a maker, a woman of color, a community organizer, a little sister, and a daughter, she creates space for dialogue, intergenerational exchange, and creative expression. She currently works at Indigo Arts Alliance, as their Studio and Programs Coordinator where she is able to learn within the intersection of art and activism. In spring 2020, she was awarded the Heart and Soul Student Award by Maine Campus Compact for her D.E.I work as a student at MECA. Her artistic philosophy of representation, diversity, equity, and justice lays the foundation of her curatorial and studio practice. Her work has been shown in the Center for Afrofuturist Studies, The Abyssinian Meeting House, The Portland Museum of Art, Congress Square Park, Able Baker Contemporary, New Systems Exhibitions, Engine, and more.
Come check out Ashley's work during her Open Studio Day, June 25 5-7 pm!


Our May Artist in Residence is Meg Hahn.
Meg Hahn is a painter based in Portland, ME. She has attended residencies at the Vermont Studio Center (Johnson, VT), Hewnoaks Artist Colony (Lovell, ME), the Monhegan Artists' Residency (Monhegan Island, ME), and will be attending the The Sam and Adele Golden Foundation Residency Program in the Fall. Most recently, her work has been included in exhibitions at the Center of Maine Contemporary Art, Perimeter Gallery, and Collar Works. Meg is also a co-director at Border Patrol and has worked on numerous curatorial projects. She graduated from Maine College of Art with a BFA in painting and a minor in Art History and works out of the SPACE Studios building.